Event Finder
Exhibitions & Fairs
BHW Show of the Year
15 January 2022 - 16 January 2022

Overview keyboard_arrow_down
The British Homing World Show of the Year is an annual event, the largest gathering of Pigeon Fanciers in the United Kingdom. It's a two-day event that takes place in January in Blackpool. Whether you are a new member, curious about pigeons, or a veteran pigeon fancier, there is something for everyone at the show. From trade stands, various groups and organisations, talks, films, young fanciers areas, to the main event: the showing and judging of thousands of the top pigeons in the UK. More than that, it's an amazing chance for pigeon fanciers to meet up.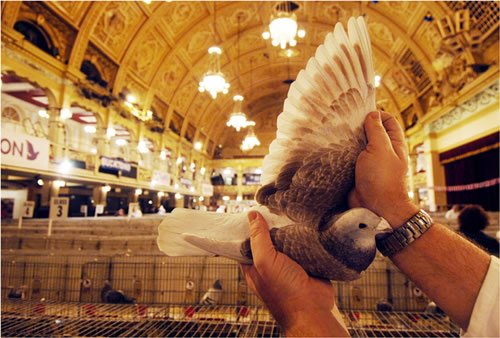 The Blackpool show is without doubt one of the largest in the world and regularly attracts around 25,000 visitors. It is held over the third weekend in January each year. We understand that it is Blackpool's busiest weekend of the year when hoteliers, restaurants, taxi drivers and shopkeepers welcome pigeon fanciers and their families with open arms. For it is truly a family event. Fanciers can buy anything from a £25,000 mahogany loft to a bag of pigeon corn at one of the 200 or so trade stands. Thousands of pigeons change hands at sales and auctions where sums of £10 to perhaps £10,000 can be paid for a pedigree racing pigeon or its offspring. Events are held for young fanciers, and wives and partners go to the variety of shops. There is a real brotherhood of fanciers, and friends will meet up from various parts of the country not having seen their pals since the previous show.
Of course there is a serious side to the show and it could be termed the 'Crufts of the Pigeon World'. Around 2500 pigeons are on display, all trying to win best in show, with the winner going on to the Supreme Champion class. To enter this class your pigeon must have won at a pigeon show in the previous 12 months. There is a lot of kudos to winning at Blackpool and indeed the same for any fancier who is invited to judge – it is a great honour for them.
When all the hard work is done, the money is counted. All profits from the show are donated to various charities. We support the British Fanciers' Pigeon Lung Research Team with a sizeable grant each year that enables them to carry on research into this respiratory disease. We are also now ASBAH's single largest donor with over £440,000!
Help the Aged has also been a recipient of major funds, with a quarter of a million pounds donated over the last 15 years. We now have 29 minibuses trundling around the UK each emblazoned with our logo. The rest of the money is allocated to charities suggested by members of the fancy, which includes many cancer charities and hospices.
The Blackpool Show is set to continue well into the future. I hope to see you there.
Ian Evans
Show Manager
Covid Guidance 
Face Coverings                                                       
Face coverings must be worn in all public areas and when seated unless consuming food or drink or exempt.
Required use of the NHS COVID Pass
All guests will be required by law to use the NHS COVID Pass, or an alternative proof of a negative test result, such as an NHS Test and Trace email or text proof, to gain entry into this event. 
You can access your NHS COVID Pass through:
Full guidance on NHS COVID PASSES can be found here