Your Dream Wedding or Celebration at Winter Gardens Blackpool
Discover the Enchantment of Our Unique Venues and Exceptional Services for Your Special Day
Celebrate your wedding or special occasion at Winter Gardens Blackpool, where enchanting settings and exceptional services come together to create unforgettable memories. Choose from our unique venues, including the stunning Baronial Hall, iconic Empress Ballroom, or the brand-new Conference and Exhibition Centre, to craft your perfect celebration. Experience the magic of Winter Gardens Blackpool as you embark on life's most memorable moments.
Breathtaking and Unique Venues:
Winter Gardens Blackpool offers a variety of exquisite spaces to suit your wedding or celebration style. The enchanting Baronial Hall, with its gothic architecture and regal ambience, creates a fairytale setting for your special day. The grand Empress Ballroom offers an iconic backdrop that exudes elegance and charm. For a modern and sophisticated experience, the brand-new Conference and Exhibition Centre provides a versatile and contemporary space for your celebration.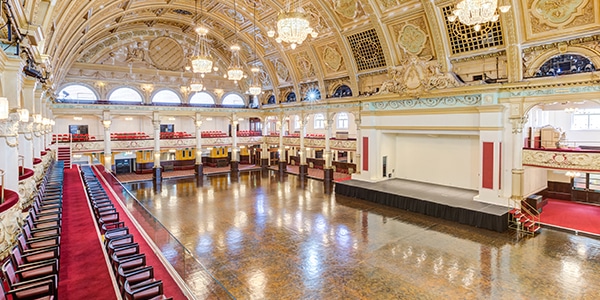 Versatility for Every Occasion:
Our range of venues allows you to design your perfect wedding or celebration. Whether you're planning an intimate gathering or a lavish event, our spaces can be tailored to accommodate your specific requirements. With the ability to host ceremonies, receptions, and celebrations all within our event complex, Winter Gardens Blackpool offers a seamless experience for you and your guests.
Exceptional In-House Catering:
Our talented in-house catering team is dedicated to creating a culinary experience that complements your special occasion. From bespoke menus to gourmet creations, our chefs and attentive staff provide exceptional dining tailored to your tastes and preferences. With Winter Gardens Blackpool, you can expect exquisite cuisine and outstanding service for your wedding or celebration.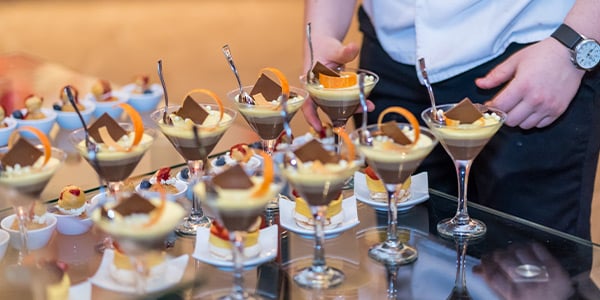 Expert Event Delivery Team:
Our highly experienced event delivery team is committed to making your special day unforgettable. From planning and coordination to on-site support, we work closely with you to ensure every detail of your wedding or celebration is meticulously executed. Our dedicated team's expertise ensures a seamless and stress-free experience, allowing you to focus on creating cherished memories with your loved ones.
Winter Gardens Blackpool offers the perfect blend of enchanting settings, exceptional services, and a dedicated team to bring your dream wedding or celebration to life. With our unique venues, in-house catering, and expert event delivery team, we provide everything you need to create a magical and unforgettable experience. Contact us today to discuss your event requirements and begin your journey to a perfect celebration at Winter Gardens Blackpool.
Visit our venue guides page to discover the versatility of our iconic spaces, from the grand Empress Ballroom to the modern Conference and Exhibition Centre.
Need detailed floor plans and technical information for your event at Winter Gardens Blackpool? Visit our page to access all the information you need.