Discover the Perfect Setting for Unforgettable Events and Engaging Exhibitions
Winter Gardens Blackpool is the ideal destination for hosting captivating exhibitions and memorable events. Our versatile event complex, with its range of unique venues, exceptional services, and iconic atmosphere, provides the perfect backdrop to bring your vision to life. Explore the benefits of hosting your next exhibition or event at Winter Gardens Blackpool, where creativity and innovation meet heritage and charm.
Diverse and Adaptable Venues:
With 10 unique venues, Winter Gardens Blackpool caters to exhibitions and events of all sizes and styles. From the modern £30m Conference and Exhibition Centre to the historic Empress Ballroom and the elegant Spanish Suites, we can accommodate guest lists ranging from 50 to 7,000. Our flexible spaces can be tailored to suit your specific event requirements, ensuring an unforgettable experience for attendees.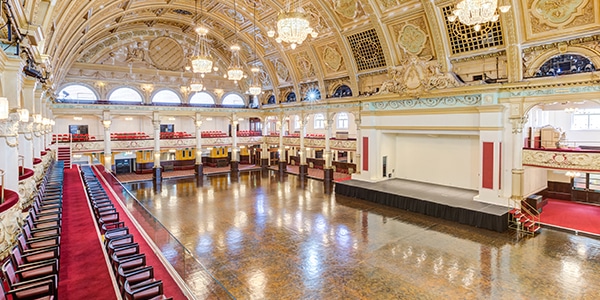 Expert Support and Services:
Our dedicated team at Winter Gardens Blackpool is committed to making your exhibition or event a success. With expertise in event production, catering, audio-visual services, and technical support, we work closely with you to bring your creative vision to life. Our hands-on approach ensures your event runs smoothly, allowing you to focus on engaging your audience and creating lasting impressions.
Networking and Social Opportunities:
Winter Gardens Blackpool offers more than just a venue; we provide an immersive experience that fosters connections and interaction. Our bars, cafes, and breakout spaces create an inviting atmosphere for networking and socialising, helping to forge new relationships and strengthen existing ones. By hosting your event at Winter Gardens Blackpool, you create an engaging environment where attendees can connect, share ideas, and build lasting memories.
Iconic Atmosphere and Legacy:
Choosing Winter Gardens Blackpool as the venue for your exhibition or event immerses your guests in a rich history that dates back to 1878. The iconic atmosphere of our event complex adds a touch of prestige and heritage to your event, creating a lasting impression on your attendees. By selecting Winter Gardens Blackpool, you become part of a legacy of unforgettable events that have inspired and entertained generations.
Accessibility and Convenience:
Located in the heart of Blackpool, Winter Gardens Blackpool is easily accessible by public transport and offers ample parking options for your guests. This convenience, combined with our proximity to local attractions, hotels, and dining options, ensures a seamless experience for your attendees, making your event even more memorable.
Winter Gardens Blackpool is the ultimate venue for hosting exceptional exhibitions and events. Our diverse and adaptable spaces, expert support, and iconic atmosphere provide the perfect setting for showcasing your creativity and innovation. Immerse your guests in the unforgettable experience that only Winter Gardens Blackpool can offer. Contact us today to discuss your event requirements and discover how we can turn your vision into a reality.
Visit our venue guides page to discover the versatility of our iconic spaces, from the grand Empress Ballroom to the modern Conference and Exhibition Centre.
Need detailed floor plans and technical information for your event at Winter Gardens Blackpool? Visit our page to access all the information you need.