Restoration work has started on the 654 chairs on the balcony – which have been there since the venue was built in 1939. Over the years they have seated over 45 million guests including Her Majesty The Queen.
On Monday 21st February 2022 the seats were carefully dismantled by hand, by a team of five workers.
They were taken down to the ground floor in a lift – and sent off to Evertaut – a theatre seating specialist in Blackburn – to be reupholstered.
All seats in rows A – D, and part of row E, will be given brand new backs and seat pads. The cast iron bases will be french polished, and the legs will be painted gold.
It's the final group of seating to be removed, reupholstered and reinstalled and is expected to take around two to three weeks to complete.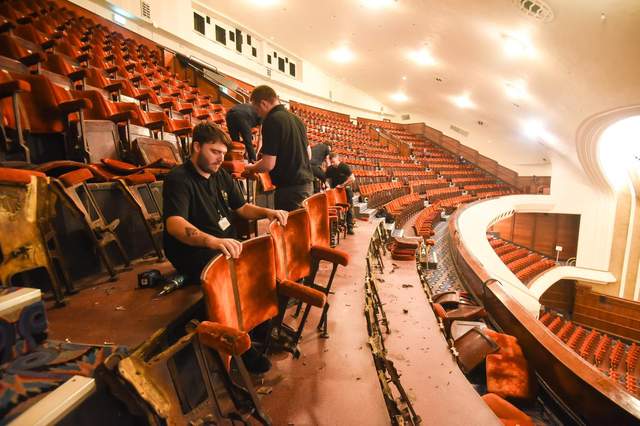 The team will make the most of the next few weeks while the seats are out for refurbishment – and give the floor and bleachers a thorough clean ready for the new season to get into full swing.
The project will cost £45,000 and has been paid for by a restoration levy – a £1.50 charge that was introduced to all ticket sales from July 2021.
Each year the routine maintenance bill is £500,000 and with essential repairs and the impact of COVID that cost has increased dramatically.
It's one of the last parts of the theatre to be modernised – many of the seats in the stalls and circle area were revamped in recent years.
There has been ongoing investment in the venues at the Winter Gardens since Blackpool Council bought the Grade 2 listed building in 2010.
Coming under public ownership created access to new sources of funding such as the Heritage Lottery Fund.
Major investments have included the £1.25m refurbishment of the Church Street entrance, rotunda and Floral Hall while original features of the Mazzei cafe, hidden since the 1960s, were uncovered. Repairs were made to the ballroom ceiling and Spanish hall roof at a cost of £4m (including a £500,000 grant from Heritage England). The new £30m conference centre opened its doors in February 2022. The addition of the newest venue, which holds an extra 2,000 people, now makes Blackpool Winter Gardens the largest venue of its kind in the North.